Since the beginning of 2018 power2max supports the Centurion Vaude MTB Team with NG SRAM power meters. The power meters were first tested in the world's toughest and biggest MTB stage race: Cape Epic. Daniel Geismayr and his team mate Nicola Rohrbach rode their bikes through dust, desserts, water, uphill and downhill and won the prologue and the queen stage of the 2018 edition of Cape Epic. They proved to be among the best MTB marathon riders in the world and finished 5th in the overall ranking. We had the possibility to talk to Daniel about his Cape Epic experience.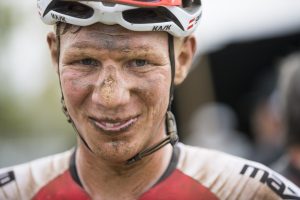 power2max: Congratulations Daniel to two stage wins and one day in yellow!
Daniel Geismayr (Centurion Vaude): Thank you very much! It was really great to win two stages and to be in the yellow jersey for a day. Unfortunately, we missed our goal of being in the top three at the end of the race but this will remain the goal for the next years!
power2max: What do you think about this year's race? What changed compared to the previous years?
Daniel: All competitors were really close this year and the overall level has raised. Races are faster and every team can win a stage or the GC. When I compare my power data from a couple of years ago to this year: They are worlds apart.
power2max: Why is power data so important for you?
Daniel: When I started riding with a power meter seven years ago, I noticed that heart rate just gives me a very basic orientation. I had to adjust my training every day to find the correct training zone. Since I was riding with a power meter this wasn't a problem any longer. I always have my exact power output and I always know what I'm doing on my bike. That makes planning the workouts and the training sessions much easier.
power2max: How did you use your power meter in preparation for Cape Epic?
Daniel: During the last two weeks before the race I trained really hard VO2max intervals to get in shape for the race. 40 seconds at 550 watts, 20 seconds at 275 watts and repeating that for 6 to 10 minutes. After a short brake I repeated that two or three times.
power2max: Which role does a power meter play during the race?
Daniel: During an MTB race you don't always have to time to look on your bike computer. You have to focus on the trail or on other riders. During the prologue and long climbs this is different. There a power meter is worth its weight in gold. I always know what I'm doing on the bike and I know what I'm capable of, so I can pace myself perfectly. Additionally, the power data is very important for the regeneration. After each stage we looked at the data and used it as a basis for our nutrition. We always knew how much energy I used during a day and how many carbohydrates I had to eat to refill my tank.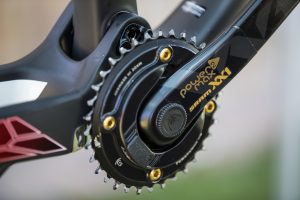 power2max: Cape Epic 2018, the first year with the power2max NG MTB power meter, your personal conclusion?
Daniel: To be honest, I never thought about my power meter! But this is the best thing that can happen! I never had to think about the reliability or the precision of the data displayed on my bike computer. It just worked! I could concentrate on riding my bike and on the race and that is the most important thing for me.