"110 4-SL" is the exact name for our new lightweight powermeter for Shimano chainrings. While the "110 4-S" stands for the bolt circle diameter  (BCD) 110mm for 4-arm Shimano chainrings, the "L" stands for light!
Less weight
If every gram counts on your climbing bike, then our new lightweight power meters are just the right choice for you. The new NG lightweight version for the Rotor power2max Edition, the Rotor ALDHU-R 24 and ALDHU 30 cranks weighs 118g and is thus almost 31g lighter than the regular 110 4-S version, saving around 20% of the weight. The 110 4-SL version of the NGecos is also 30g lighter.
Shimano compatibility
Both new versions measure the total power of both legs with the proven power2max precision and reliability, making them the ideal addition to your racing or triathlon bike. Our power meters with the 110 4-S or 4-SL bolt circle for Shimano chainrings are compatible with both the current 11-speed chainrings and Shimano's new 12-speed gears. So if you want to update your current bike, you can easily use the crank and powermeter later on a new bike with Shimano 2×12-speed gears.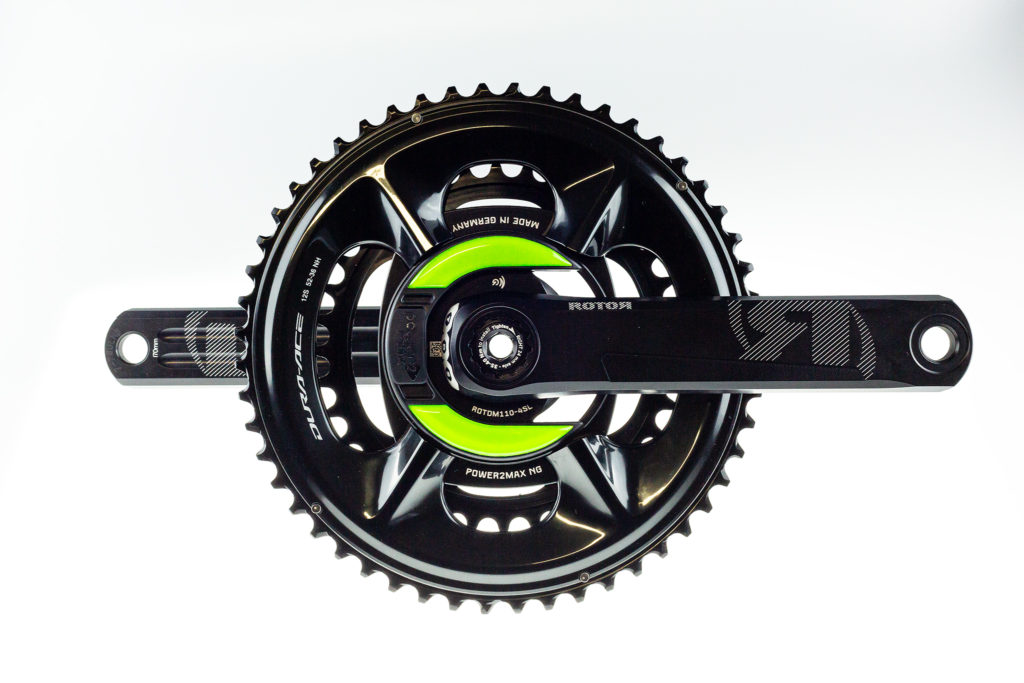 Osymetrics chainrings
The new SL versions also allow for even greater compatibility of oval chainrings. While the regular 110 4-S version supports Osymetrics chainrings with at least 36 teeth, the SL version now also supports Osymetrics chainrings with 34 teeth. Other oval chainrings are easily compatible with both versions.
Now in our webshop
For a surcharge of 100€ compared to the regular Powermeter versions, both the NG and the NGeco versions are now available in our shop. If you have any questions about the new versions, you can always contact our support team directly.