Dear power2max distributors and partners,
the power2max NG and NGeco powermeters for the new Shimano MTB cranksets are now available. With the introduction of the new Shimano 12-speed groupsets it is now possible for us to offer our spider-based powermeters for Shimano.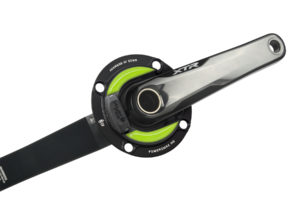 compatibility:
The new powermeters are compatible with all new Shimano 1×12 modular cranksets. The compatible series are: M9100, MT900, M8100 and M7100.
chainrings:
When changing a standard direct mount chainring into our powermeter it is necessary to install a new chainring. It is important to choose a chainring that is compatible with Shimano's Dynamic Chain Engagement+ (DCE+) and  their Narrow-Wide chainrings. Until now we have found only one of those chainrings on the market. Therefore, we offer our customers the Wolf Tooth chainrings (32, 34, 36). These chainrings were developed for Shimano's 12-speed groupsets and they work perfectly with our powermeters. We expect more manufacturers to offer fitting chainrings in the future.
chainring bolts:
We recommend using the Rotor MTB chainring bolts from our shop in combination with the Wolf Tooth chainrings.
Photos:
Photos of the new Shimano MTB powermeters can be found here: https://nc.power2max.de/index.php/s/amweiRrXATJ43Ac
If you have any additional questions regarding compatibility or our new MTB powermeters do not hesitate to contact our support-team: support@power2max.de