Why is the correct riding position on the bike so important for our performance? These and similar questions are what we asked Sebastian Klaus, the founder of the Competence Center Sport in Cologne "KOMSPORT". During his visit to the power2max service partner Bikeline in Berlin. Sebastian is a certified sports scientist and the expert at KOMSPORT for motion analysis and riding position on the bike. Renowned pro cyclist and triathletes trust in his expertise and know that Sebastian is not an abstract theorist, but as a passionate cyclist himself and that he spends many hours on the bike.
p2m: Who would profit from a bike fitting?
Sebastian: There is no straight answer for this question. Every rider pursues a different goal with a bike fitting. For some, it's all about sitting on the bike painlessly and comfortably, and on the other side it's usually about optimizing performance. You could say that a bike fitting is useful for those who spend a lot of time on their bike. This can either be on a road bike, an MTB or time trial bike, even commuters or cyclotourists can profit from a correct bike fit. The most important thing is that the goals and expectations are discussed before the fitting.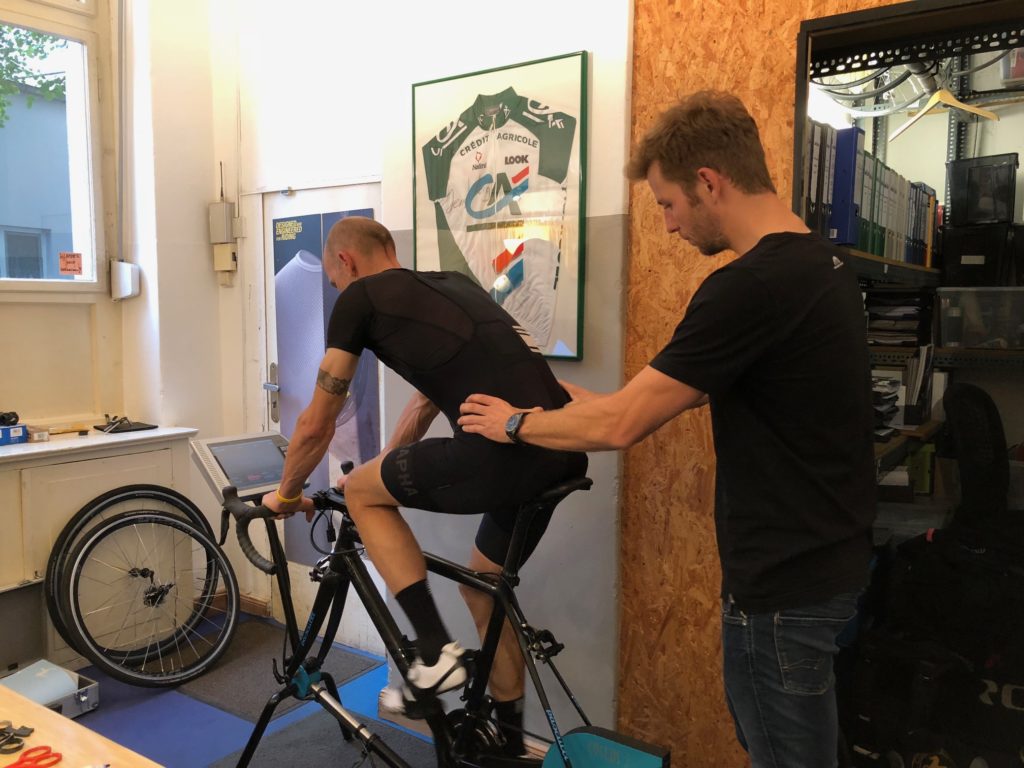 p2m: Fascinating! We expected bike fittings and positional analysis to be something for very ambitious cyclists. Which symptoms do cyclists have or from which kind of pain do they suffer when they come to you?
Sebastian: Most of them come with pain in the neck or shoulder area, some have with seating problems or pain in their knees. Many people do not believe that painless cycling is possible. We are therefore always glad to be able to surprise cyclists first and then to make them happy in the long run.
p2m: And in sportive cycling, the focus is primarily on optimizing performance, i.e. faster cycling?
Sebastian: When we talk about professional athletes, the answer is yes. Ambitious amateur or hobby cyclists and triathletes come with two concerns: First: to eliminate pathological findings, such as neck pain or seating problems and second: to optimize their performance. Anyone who thinks that only one thing is possible, sitting on the bike without pain or optimizing the performance, is definitely wrong.
p2m: Which factors have biggest influence in performance optimization?
Sebastian: By changing the riding position, our main goal is to optimize the power transmission to the pedal and the use of leverage. The aim is to realize a more efficient pedal stroke. But it is also about the aerodynamic optimization. We want to achieve higher speed with the same or even less use of power. The latter is especially important for time trialists and triathletes.
p2m: Some years ago, you could see time trialists and triathletes almost touching their front wheels with their noses. Today, the positions have changed and you can often see big spacer towers on their bikes. Doesn't time trialing mean that you should be as aerodynamic as possible on the bike?
Sebastian: There is correlation between aerodynamics and speed. But that is not all. On-road tests and experience have shown that the factor aerodynamics should never be considered alone. Improving the performance through the optimization of your riding position should always include looking at your anatomy, ergonomics and biomechanics.
Only considering aerodynamics and changing the riding position with the goal of being "as aerodynamic as possible" often leads to the athlete being unable to hold this position on the bike without pain for a longer period of time.
Aero test on the track or in the wind tunnel involve exactly this risk. Those tests are made under laboratory conditions on very short distances and only consider how the riding position should be changed to save the most watts. However, it is often forgotten that the new position must be kept free of pain for over 90 or even 180 km in triathlons. Today we know that an aerodynamic position should not be maintained at the expense of leverage and pedaling efficiency.
p2m: Talking about the efficient pedaling stroke: How can it be influenced by the riding position?
Sebastian: The efficiency of the pedaling stroke is all about pedaling as smoothly as possible and to transmit the force as evenly as possible onto the pedal during one turn of the crank. The pedaling efficiency of one pedal stroke is influenced by the foot position, the position of the cleats on the shoe and the position on the saddle (and the position of the saddle). There is a big potential for improvement for the majority of cyclists by simply correcting the position of their cleats. Additionally, the pedaling efficiency is increased by optimizing the leverage forces between leg, pedal and crank. As a result, there often is an increased cadence and ultimately the potential can be fully exploited.
p2m: If you are going to Granfondos and small races, you probably always look at the rider's riding position. Is the majority of participants sitting perfectly on their bikes or is there potential for optimization?
Sebastian: I see very few people sitting perfectly on their bikes and "unfortunately" way too many cyclists with non-matching bike sizes.
p2m: That sounds like there are hardly any suitable bikes or do we just buy the wrong sizes?
Sebastian: Both. 30 years ago, there were racing bikes in countless sizes. Today, however, most manufacturers sell road bikes in sizes XS, S, M, L, XL, XXL. This is like having only 5 sizes for shoes, e.g. 38, 40, 42, 44, 46 (German shoe sizes) because these sizes fit most people. So if you're a '39s type, you could either wear too big or too small shoes. Bicycles and their size are today determined by frame sizes and especially sold over the measurement of the customer's leg inseam. The test can easily be done in online configurators. The customer enters a number of body measurements, but only the inseam counts. If I change this, the frame size also changes. When changing the upper body length and leaving the inseam length the same, in most configurators the frame size stays the same.
To find a suitable bike, however, the body size and the upper body length of the cyclist are much more crucial.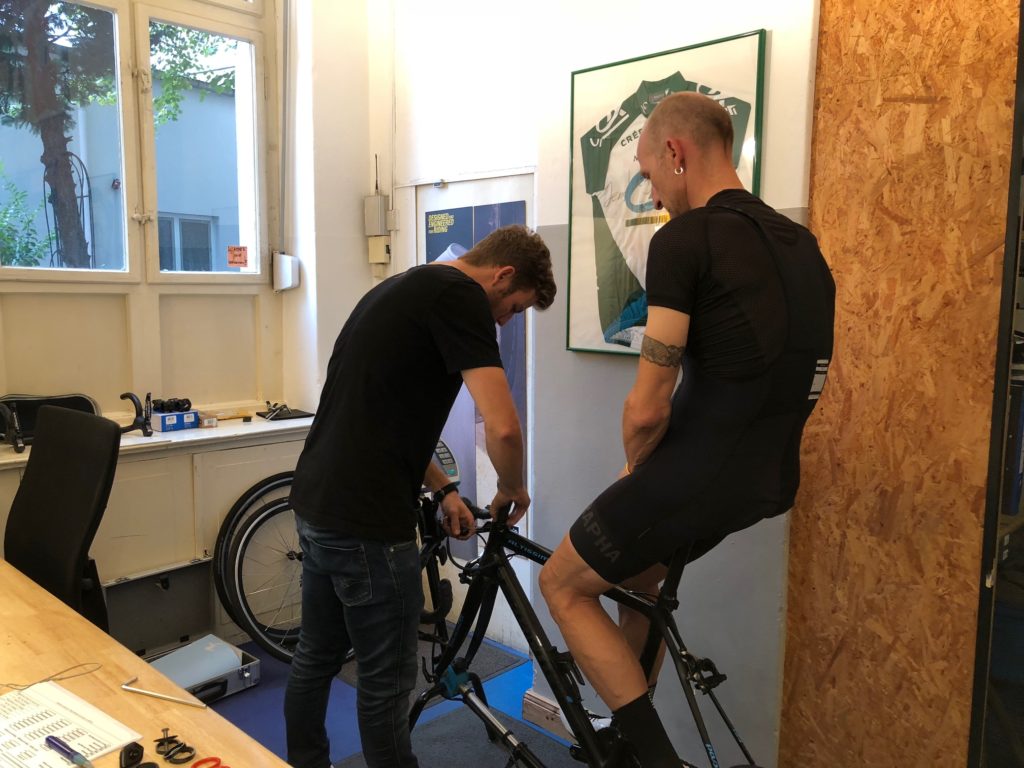 p2m: What awaits the cyclist who embarks on a bike fitting at KOMSPORT?
Sebastian: At KOMSPORT we take a holistic approach. That means that we start with analyzing the body statics of a cyclist. Then it's time for the bike and dynamic motion analysis. During the bike fitting we already start making changes to it. We switch components and adjust everything until ergonomics, biomechanics and aerodynamics are in balance. In some cases, it even makes sense to make a separate analysis of the feet and to support the foot position with special soles. But this is another pair of shoes.
p2m: What is the easiest way to contact you?
Sebastian: Call us: +49 221 46753531 or send an e-mail to mail@komsport.de  Or visit us in one oft the KOMSPORT Popup Stores, which regularly pop-up at our partners at Bikedress in Munich, Actionsport in Sauerland, Bikeline in Berlin and in 2019 also in Hamburg. The dates are published on our website: www.komsport.de.